Damaged Hair: Tips To Soothe Your Winter Hair Woes
Posted on December 13 2020
Ah, winter. Admittedly, one of my lesser preferred seasons, but the decorations and merriment of this time are too enchanting to dislike. Winter quickly becomes the time of cozy drinks, fluffy sweaters, indoor activities, and...
split ends
?! Yep. With the biting winter winds and the complete lack of hydration in the air, your hair takes quite a hit when it comes to the winter season. 
However, as much as nature may seem to be working against you in this harsh winter season, the way to solve frizzled and dry hair may be easier than you think. With 2020 being such a tough year, the least we can do is make our hair look gorgeous. (It is the year for self care!) Luckily for us, there are a few simple fixes to getting your hair salon-perfect again.
Is winter that bad for your hair?
Absolutely! Our hair is so temperamental and fragile as the seasons change. Especially in the winter, our hair takes the biggest hit. According to Heathline, cold and dry hair lifts our hair shaft ever so slightly and makes our hair susceptible to breakage (hello, split-ends!) and bad hair days! 
The winter winds don't help us either. When that cold winter wind whips around your hair, it can cause your hair to get snagged and tangled easily. When you go to brush it out, it causes further damage to your locks.
As a super long-haired gal myself, I know the struggle of trying to maintain sleek hair when all the elements of nature seem to be working against you. Even worse? The cold can make your hair lose that newly colored vibrancy and shine that you loved oh so much when you were coming out of the salon. 
3 simple steps to protect your hair 
Now that I've delved into the horrors that winter can wreak upon your hair, what can you even do about all that frizz and split ends?
Step 1: Conceal those split-ends 
Moisturizing is key! Hair prone to breakage and damage needs a little extra TLC, especially when it comes to your shampoo and conditioner. The &honey Line on Cosme Hunt can help to bring that moisture back and add some extra shine too. 
Boasting the power of honey, this oh so cutely packaged line gives you 3 steps for gorgeous, hydrated locks. With a blend of 3 different types of honey, you really get the full effect of this amber colored elixir. Check out this article all about the amazing power of natural honey on hair! Oh, and did I mention the packaging?! 
Really want to conceal those annoying split-ends? Try a hair mask to bring back much needed moisture to your hair! Hair masks help to strengthen your hair shafts and make your hair's overall appearance look healthy and strong. Argan oil (or Moroccan oil) are synthetic oils which help it to stay light in your hair (with no oily mess)! Check out the &honey Deep Moisture Treatment at Cosme Hunt for a deep hydration. 
Seriously, just check out that mega adorable packaging! Formulated with 100% organic Moroccan Oil and 3 different types of all natural honey, this hair treatment covers the surface of your hair to lock in moisture and soothe damaged hair. 
Step 2: Trimming is not the enemy! 
Regular trims are your savior! The ugly truth? Split ends are going to happen whether we like it or not. Good products are only one small piece of the puzzle. Getting regular trims can help to keep your hair looking shiny and healthy.
Key tip: afraid of the stylists cutting off way more than you asked for? As a long-haired girl who is way too attached to her hair, I feel you. Thankfully, using the right lingo can save you from post-salon disaster. Ask for just a "dusting" instead of a trim. This takes off just the dead ends and saves your length!
Step 3: Heat damage is not the solution! 
As a curly haired girl with a love for sleek tresses, I often find myself reaching for my flat iron on ridiculously bad hair days. While the best thing is to put the tools down (I could never), and throw your hair up into a cute messy bun, the next best thing is to really invest in heat protectant to use every time you blow dry, curl, or straighten your hair! For a cute spray and go moment to solve your bed-head gloom, check out the MACHERIE Perfect Shower Moist Morning Fix on Cosme Hunt.
This moisturizing spray helps you reset "bed-head" and helps to nourish and smooth down frazzled hair. The best part? This lightweight spray doesn't leave your hair feeling heavy and sticky! A quick spray and brush through, and there's no need for all that tedious styling every morning. Sounds like magic, right?
Demi's extra tip: Keep travel products handy! 
Okay, okay. I know I said this was 3 simple steps... but hear me out! Winter weather can be so unpredictable (60°F weather one day and 20°F the next) and a strong breeze can mess up that hairstyle that took you 30 minutes in the morning. I love to be prepared at all times, so keeping a small bottle of smoothing serum to tame those fly-aways and conceal those pesky split ends will keep your hair looking perfect for those insta-worthy moments.
Key tip: not big on eco-waste or your favorite products don't offer travel sizes? Pick up travel bottles from the drugstore or retail store and fill them up with your favorite products from Cosme Hunt to protect that new and fresh blow out.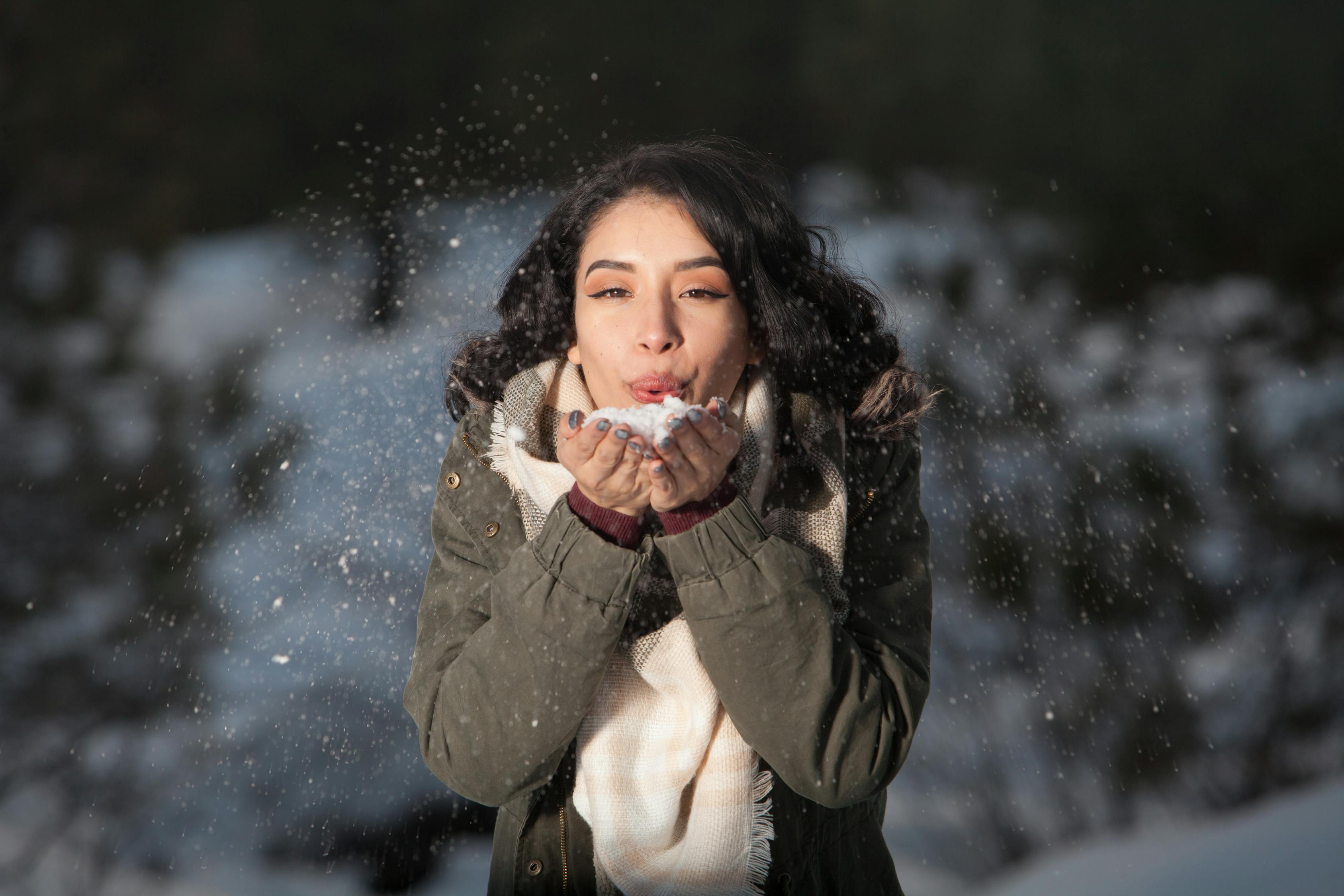 Feeling ready to conquer your winter hair blues? I am too! Learning all about this made me feel so much better about taming my extremely long locks and looking good while doing it! Remember: when it comes to damaged hair and split-ends, prevention surpasses all other methods! Even if you refuse to part with your beloved tools (*cough cough*), less usage and routine conditioning can help to prevent your hair from looking dry and damaged. 
That is all I got for today. Despite these strange times, I hope you all have a cozy and safe holiday season. Sending you warm and toasty vibes from under my very fluffy blanket - Demi.
To find out more, visit our website!
 Demi Singh
Attended a Japanese High School and returned home to America for college to study 3D animation. Demi is a makeup addict with a passion for self-care. In her spare time she also likes to play video games, watch TV, and listen to music.