The Differences Between K-Beauty and J-Beauty
Posted on April 11 2021
What do the letters J and K have in common besides being next to each other in the alphabet? They are often seen next to each other when discussing beauty trends! Located near each other in East Asia, the close proximity between the country of origin for K-beauty and J-beauty have led to a lot of similarities between the two. But are there any differences?
The Routines 
If you follow the Cosme Hunt Instagram account (which you definitely should!) you most likely have seen our post on the differences between the nighttime skincare routine in Japan and Korea. As you can see below, the Korean routine is much more extensive than the Japanese routine with ten different steps, while Japan only has four. I think this is one of the main differences between K-beauty and J-beauty: Korean beauty is more precise and takes a longer time to finish and perfect, while Japanese beauty focuses more on natural beauty with only a few very carefully selected products that are proven to work.
Japanese Skincare vs Korean Skincare
So what exactly are the differences between J-beauty and K-beauty? From my experience, J-beauty focuses more on skincare than K-beauty, with the idea that if you have nice skin you can wear less makeup. Therefore, it is better to splurge on skincare products and makeup that greatly affects your skin like foundation, whereas other products like eyeshadow can be a little less expensive, going along with the idea of "petite price" makeup. This makes sense when thinking about the high-end skincare products from Asia that we have in America. Tatcha, SK-II, and Shiseido are all famous J-beauty brands in America that can come with a pretty hefty price tag, but are known to be extremely effective. Of course there are Korean brands such as Laneige that have taken root here, but it seems that it is mostly the Korean makeup brands that have become popular in America rather than skincare, such as Etude House or Innisfree.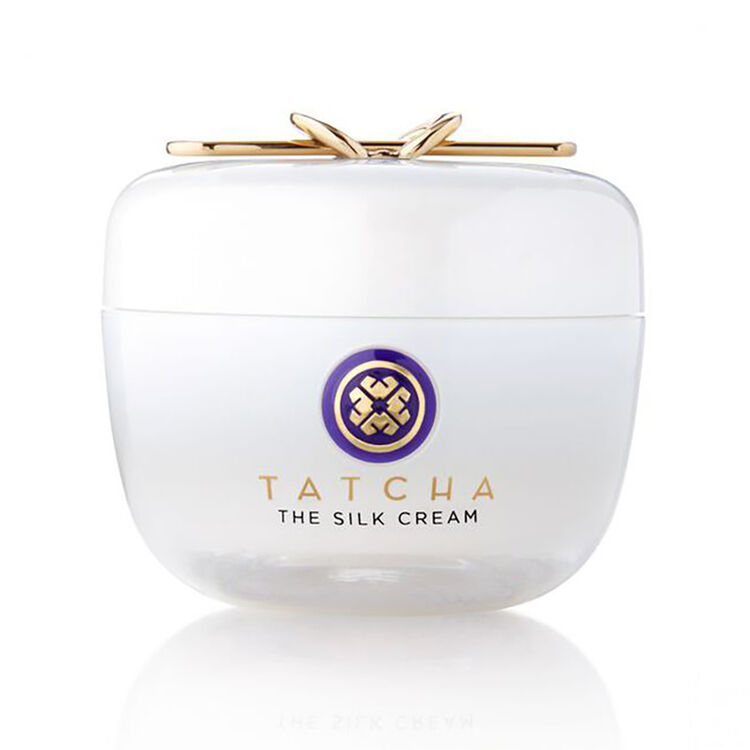 The Tatcha Silk Cream is quite famous not only for its efficacy, but for the interesting story behind it. Many of their products are inspired by the beauty secrets of geishas, highly trained and elite performers that play an integral part in Japan's rich culture. Wearing kimonos that are often made of silk has made their skin beautiful and soft over time, the ingredient being the star of their famous Silk Cream.
The Pitera Essence from SK-II has also become the icon for natural, fermented ingredient skincare. Also having an interesting story behind the product, SK-II states that the youthful hands of sake brewers inspired the secret ingredients that goes into Pitera.
In contrast to Tatcha and SK-II, Shiseido offers products in a wider range for all budgets. The Senka Perfect Whip is one of their more famous products all over the world, having a following in South Korea and the West.
Like many others, I love cherry blossom themed products, but mostly associate them with Japan. However, this palette is actually from Korea! Etude House is a Korean makeup brand that has become ubiquitous all over Asia, from Japan all the way to the Philippines. 
Another skincare difference I've noticed is that while Korea focuses on exfoliating the skin, Japan seems to emphasize cleansing. Foam cleansing, oil cleansing, and double cleansing are trends originating from Japan, while the famous chemical exfoliants are mostly from Korea.

Cleansing oil is usually the first step in a Japanese skincare routine, being the first cleansing step to remove makeup, sweat, and dirt. The idea is that with "like dissolves like," oil is the best for dissolving the oil on your face.

While there are many foaming cleansers on the market, you can actually get similar results with any cleanser if you use a foaming net! Foam cleansing is usually the second part of the Japanese cleansing process. The tiny bubbles in the foam are thought to penetrate deeper into the pores to thoroughly clean your skin, without drying or causing wrinkles from friction.
When chemical exfoliants began to become popular, this one from Some By Mi quickly attracted a cult following. It has both the AHA's and BHA's that are integral to chemical exfoliating in the form of a daily toner. A word of caution: some swear by it while others find it too harsh on the skin. Unfortunately, I am a part of the latter group with my sensitive skin. When trying new products, make sure you always do a patch test!
Makeup Differences
Just like with the rest of the world, the Hallyu wave has also reached Japan and has influenced the beauty scene there, but there are still some notable differences between the makeup styles. The highlighted features are one difference, with Korea focusing on eyebrows and eyeliner, while Japan focuses more on eyelashes and blush. Let's look at some of these in more detail.
Brows
You can probably remember a few years ago when straight, Korean eyebrows were extremely popular. While you can still see them in some places, Korea has slowly transitioned to having a natural arch while still filling them in boldly.
There are always new and cool beauty gadgets coming out from Asia, such as the gua sha face tool. Brow stamps have been around for a while, appealing to those who have difficulty drawing their eyebrows evenly or those who want to shorten their makeup time. The different kinds of stamps can show a lot about the brow shape styles of the time. As you can see from this Innisfree eyebrow stamp, thick brows with natural arches are popular in Korea.
From Japanese magazines, I have seen a more natural approach to eyebrows, with clear mascara tending to focus on keeping the hairs in place, which reminded me of the soap eyebrow trend in the West as of late. Mixing colors in the eyebrows have also made an appearance in Japan, such as using pink, purple, or red in addition to the natural brow color to create a cute or mature impression.
Drawing the brows to have a fluffy appearance is also popular in Japan. This is usually acquired through powder alone, or layering powder on top of an eyebrow pencil or mascara. This eyebrow palette from Heavy Rotation has been popular for a while, and I still see it in some makeup videos by Japanese youtubers. The different colors allow you to draw a very natural gradient on the brow. It can also be used for highlighting and contouring the brow bone.

Eyeliner
As for eyeliner, drawing the corners of the eyes downwards is popular in both countries to create the look of "puppy eyes." However, Korea seems to focus more on eyeliner application techniques than Japan. Recently, tightlining only the center of the upper eyelid while eyeliner is drawn on the inner and outer corners of the eye has been popular, earning the name the "Lost and Found Theory." 
The idea is that when looking at someone, only the middle of the waterline is visible, so it doesn't make much sense to tightline the edges. As we know, tightligning gives the impression of thicker lashes without compromising space on the lids, sometimes making the eyes appear smaller.
As for Japan, most magazines feature natural brown eyeliner that extends only slightly downwards from the outer corner of the eyes, sometimes described as emulating the look of a small animal, like a squirrel.
Brown eyeliner is also a popular choice to look more natural. This pencil eyeliner from IMJU DEJAVU is perfect for trying it out. Similar to the Korean method, you don't have to use it on the entire length of the eye. Simply tightline the inner third while slightly extending the outer third downwards to achieve cute, endearing eyes.

Lashes
Rather than eyeliner, Japan seems to focus more on lashes than Korea, resulting in Japanese lash brands being favored by many in Korea. While the gyaru trend of putting false lashes underneath the eyes has somewhat faded, Japan still puts emphasis on lower lashes with mascara, often having products made specifically for the lower lashes.
Tsubasa Masuwaka is one of the more famous gyarus that have pioneered the eyelash trends with her brand Dolly Wink. The above picture summarizes many of the past lash trends in Japan, from the alternating long and short lashes on the top falsie, to the tapered lashes on the bottom with it being thicker towards the outer portion of the eye.
In addition to false lashes, Japan has produced many different kinds of mascaras that can give the appearance of falsies. This fiber mascara from IMJU DEJAVU gives both length and volume without any smudging or panda eyes.

In Korea, curling the top lashes are focused on more, with different names for different curls, such as C curl or J curl. Well defined lashes have also taken precedence over full lashes in recent years. They often use a heated wooden stick to curl them like you would with using a hot tool to curl your hair.
Red Velvet is a Korean idol group that is known for their well defined lashes. Fans often copy the look by looking for mascaras that lengthen rather than volumize, and they sometimes pinch the lashes together to give a more pronounced look.
Blush
Following this idea of colors, J-beauty seems to use more colorful blush than Korea. While Korea has gone through phases of two tone blush to orange, it now seems to have settled on a more natural color, with mauve being a recent trend. In contrast, Japanese makeup still capitalizes on pink blush, and while the drunk blush trend has somewhat subsided, many J-beauty magazines still feature models with an apparent application of sweet pink blush. In the recent issue of More magazine, you can see the placement of the blush right underneath Satomi Ishihara's eyes, rather than at the corners like the drunk blush trend.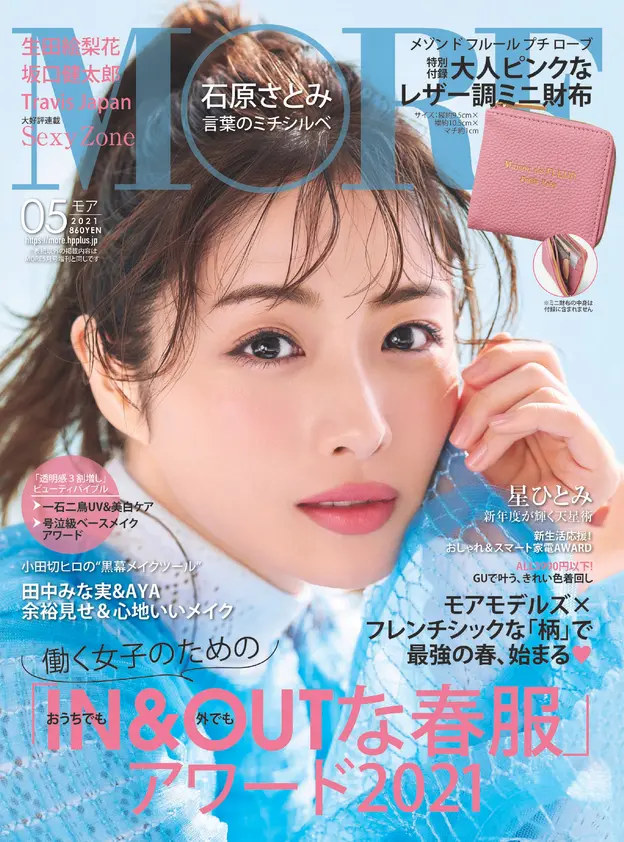 Lips
Pink lips with gloss are also a common trend in Japan while Korea seems to use more reddish colors. Gradient lips have also lost some traction in favor of more plump lips in Korea, sometimes with drawn in smile lines at the corners.
As for Japan, gloss is still popular on the lips, with pink being a primary color, which we can see on the cover of More magazine above. This lip serum from Plump Pink is perfect for achieving the natural pink pout. Not only does it give the appearance of plumper lips with the gloss, it also treats the lips by adding moisture and removing wrinkles.

Makeup that suits you
One trend that both Korea and Japan have recently adopted is the idea of using makeup colors that suit your skin tone. Similar to the idea of K-beauty being more extensive and precise while J-beauty is more natural and efficient, there are four tones in K-beauty that correspond to the seasons and are collectively referred to as Personal Colors. In Japan, the main two categories are blue-based and yellow-based, which can also be divided into seasonal colors that take into account if you suit bold or more muted shades, but generally only look at using cool or warm tones.
What suits you?
People often ask me why I chose Japanese for my language credit, to which I reply: "Because I like J-beauty." Many times they follow up by asking me about K-beauty, commenting on how it is more famous in America. Both have their benefits, and when it comes down to it, I think it is mostly about someone's lifestyle and personal preferences. I am part of the population that believes an ounce of prevention is worth a pound of cure, and so I would much rather splurge on skincare products than makeup. In addition, with my sensitive skin, sometimes the less products the better, so I prefer using a Japanese beauty routine rather than a ten step Korean skincare regimen. In my experience, K-beauty brands tend to have a lot of fragrances that irritate my skin, while some Japanese products might smell strange due to the fermentation, but the natural ingredients feel better for my skin (you probably all know what product I am talking about). Similar to the trend of finding makeup colors that suit you, experimenting with beauty products and routines can be important to finding out what works best for you, whether it be K-beauty, J-beauty, Western beauty, or a mix of everything. So in the end, do what you think suits you!
To find out more, visit our website!
Megan Carulla
A university student by day, a skincare enthusiast by night! After falling down the skincare rabbit hole, Megan has been an avid follower of Japanese beauty ever since her high school days. Having dry, sensitive skin, she spends just as much time looking up trends as she does looking up ingredient information. When she's not sheet masking, Megan likes to take long walks and dance with her mini goldendoodle, Momo.